I'm
Ray

.
I'm a

designer

.
I live to

enjoy

what I do.
Who I am, What I am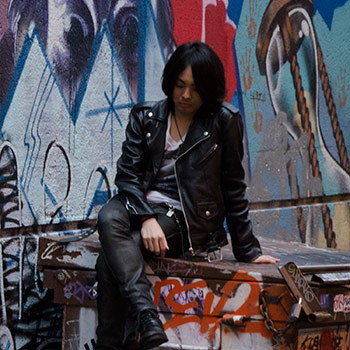 Ray is a designer from Japan who believes solidifying concepts is the essential key to what he does. And at the same time, he believes this solidification process to be the most challenging task in the entire design workflow. To Ray, graphic and web skills are, although very strong, merely tools. His job is to put together the concept and the skills to create a design piece valuable to not only the client, but more importantly, to the end users.

Ray currently works as a freelance designer, working on different kinds of projects for organizations and individual business owners. As a freelancer, he has gained more experience not only in the visual design and web area, but also in other creative fields such as videography and photography. The time he spends on these projects have given him new perspectives and inspirations toward his creative thinking processes. And most of all, he absolutely enjoys doing them!
And now, he has reached a point where he wants to focus strictly on web. Ray is officially on a hunt for a new and adventurous opportunity at a digital agency in Vancouver. His biggest desire is to notch-up his skills in web development and UI/UX design, by being surrounded by a group of creative (and geek) gurus. He is so eager to put all of his passion into learning and becoming a true guru himself.

Spending most of his youth in Ontario, Canada, he became a bilingual in English and Japanese, and also a multicultural individual at the same time. He chose to live in Japan, his home country, during a 4-year university program at Keio University, and then made his first step to becoming a designer at an advertising agency in Tokyo. He stayed there for a year and a couple of months before moving to Canada once again.
Shortly after his arrival in Canada for the second time, Ray got enrolled into the New Media Design and Web Development program at BCIT in British Columbia. There, he was able to build up more advanced skill sets on top of the fundamentals that he had already had. More importantly, he also gained lots of industry connections at BCIT, some of which actually led to a work opportunity afterwards.
After completing his study at BCIT, Ray worked at Massive Media Inc., a digital agency in Vancouver, where he collaborated with close team members to work on various client projects. He learnt the importance of communication and teamwork while working there. It's not too much to say that he enjoyed his time there very much and misses the studio working environment, which is a large chunk of reason why he is on a hunt for a new position now.

In the not so distant future, Ray hopes to become a globally acclaimed designer, working individually for clients from all around the world.

Besides being a designer, Ray is also a front-end web developer, photographer, film creator, writer, traveller, rock music enthusiast, football (soccer) lover, and a snowboarder.

This website is designed and hand-coded by Ray to showcase his skills as a designer and as a web developer.
As a writer, he shares his perspectives on design and web through his personal Medium account.
Things that I write

I occasionally write articles on Medium about my experiences as a designer, and about whatever things that I think about while I live my everyday life.
I really like the simplicity of the website in terms of both the accessibility and the usability it provides to the users.
Medium acts as a great hub for web users to communicate with each other, and a good way for me especially as a designer to share my thoughts and experiences to anyone on the web.
Leave me a message
If you have any further questions or looking for a designer to hire, please feel free to contact me.
Although I live and work in Vancouver, Canada, I accept work globally.
I look forward to working with exciting and enthusiastic clients.